Fast food is love:-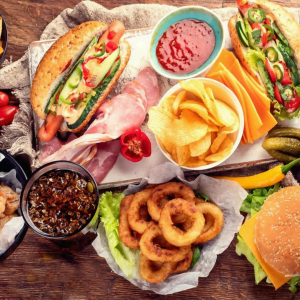 Nowadays fast food is love of many people. It is becoming popular day by day. But do you know its side effects on your health. we will discuss about it's disadvantages in this article..
Effects of junk food:
It has negative health effects of eating fast food. Let us know about them..
It affects blood sugar:
It has many calories in it and it is very poor in nutrition. It is high in trans fat, sugar, salt and several processed preservatives and  ingredients. which breaks down quickly and it results in a rapid spike in blood sugar because of refined carbohydrates and added sugar. It results in a drop in blood sugar and it cause in people to feel tired. After having it you will get  hungry again in a short time.
It affects blood pressure:
When you consume high level of salty foods then it impacts on the functioning of your blood vessels. Intake of excess sodium has also inks to fluid retention.
It affects digestion system:
These foods are low in fiber. Low fiber diets results in higher risk of  digestive conditions. Like diverticular disease as well as reduction of healthy gut bacteria.
It affects immunity and inflammation:
This type of diet effects on your immune system. Because it consists high amount of sugar, salt and saturated fat. There is higher risk of cancer rates and allergic diseases.
It affects in heart diseases:
It has high salt in it which increases blood pressure and makes a person more prone to heart attacks, kidney disease, heart disease and strokes. It means that a person is more likely to heart diseases.
Fast food is love: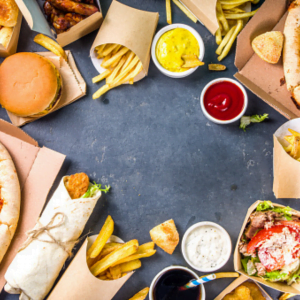 But it doesn't means that you have to avoid fast food entirely. When you are very hungry and on the way, then fast food really helps you in that condition. Because it is very tasty, cheap and convenient. Also you can stop your cravings by eating it, because you can't avoid in your daily habit. Eating excess and regular of it is harmful for your health.
You can eat junk food but eating it regular is not good for your health. Some examples of junk food is momos, burger, pizza and oily foods. These are unhealthy because it includes cheese, patties and some of these are deep fried in oil because of it this it gets very oily which increases your body fat and effects in skin issues. Junk food has that power which changes your taste in a minute and they are very juicy and mouth filling delights that everyone love. They gives us all happiness and satisfaction although overeating is not good of junk food.
Childrens, adults and mostly all humans loves it. But you can also replace it with your home-cooked foods. It is mostly famous in all countries. It takes shorter time in making junk food. Typically it is poor in nutrition. People don't need to wait too much for it because it prepared very quickly. It is very convenient that's why people prefer fast food more.
Conclusion:
It's true that consuming it too much is not good for your health but it will be harmful for you. When you eat it a lot it results in high blood pressure,  increases inflammation, digestive system, heart health and many more. But not all the junk food is bad some items are lower in these substances than others. Nowadays, some fast food outlets focuses on providing more healthy options. You can try those items which is low in salt, sugar, fat and carbohydrates. Generally you have try to limit the amount of junk food in your life because it is poor in nutrition which is not good.